20-Degree No-Slip Wedge
The 20-Degree No‐Slip Wedge was designed to provide consistent, reliable turning and positioning for patients who require high fowler angle positioning in bed or unable to tolerate the 30 degree side lying position. Studies indicate that a side lying position of 15—20 degrees is more advantageous than eliminating the turning and positioning schedule.  The firm base layer of foam is topped by a thin layer of Visco-Elastic memory foam and will support patients weighing up to 300 pounds.
Establishes and maintains 20 degrees of lateral turn without compressing or losing shape.
A high density foam base provides excellent support for consistent and reliable turning and positioning.  A top layer of visco-elastic foam enhances comfort and pressure redistribution.
Available in bare foam disposable or covered reusable versions.
All materials are antimicrobial, latex free and meet the California Technical Bulletin #117-2013 fire safety standard.

Reusable 20-Degree No-Slip Wedge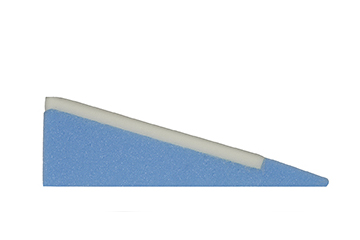 A profile view of the 20-Degree No-Slip Wedge foam core.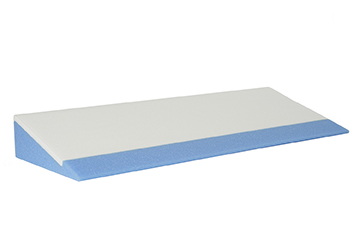 Disposable 20-Degree No-Slip Wedge