Heelzup Cloud Contoured Suspension Cushion
Advanced support for heel suspension and leg elevation
The HeelZup Cloud includes numerous features to enhance comfort and clinical efficacy.  There are four sizes available for a wide range of heights in both reusable and single patient use, (Solo), versions.  The HeelZup Cloud provides consistent, reliable heel pressure offloading that is measurably cooler than heel boot style modalities.
The supportive foam base layer and plush, Visco-Elastic foam top layer work together to elevate the heels and cradle the legs in plush comfort.
The bottom layer of the HeelZup Cloud Cushion is formed with our unique ImmersaFlex Contouring System. ImmersaFlex is an array of support columns and voids of space that independently adapt to the shape and weight distribution of the leg, resulting in a more customized interface.
Elevates the legs and suspends the heels in both the supine and 30-degree side lying positions for people of all sizes.
Top cover material repel moisture and reduces friction and shear, while the No-Slip bottom material helps the cushion to stay neatly in place.
Covers are embossed with illustrated instructions and contact information on both side panels. Staff members are always reminded how to properly use and clean the HeelZup Cloud Cushion.
Manufactured of anti-microbial, hypo-allergenic and latex-free materials.
Available in both single patient use and reusable models.
Cooler on the ankle, foot and heel than heel boot type devices.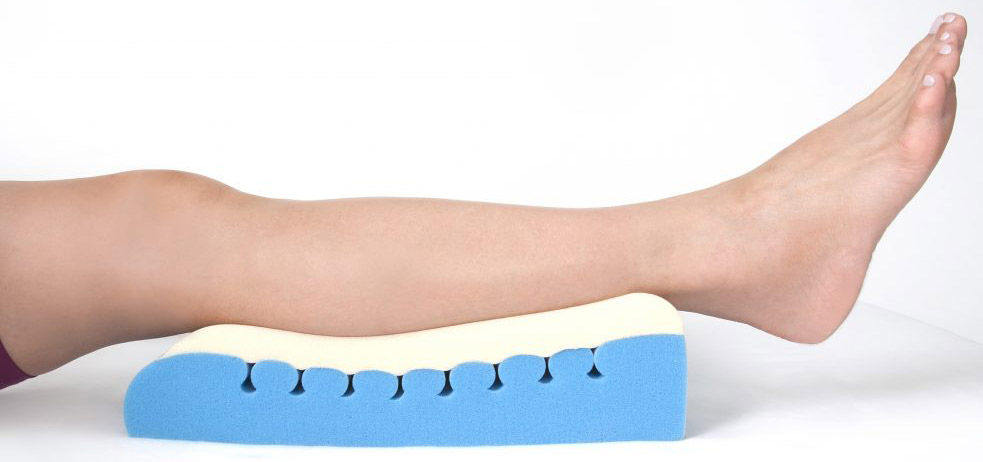 The ImmersaFlex Contouring System is an array of columns and voids of space that allow the HeelZup® Cloud Cushion to adapt to the shape of the legs, resulting in a more customized interface.

HeelZup Cloud Solo – A single patient use version of the HeelZup Cloud. The HeelZup Cloud Solo uses the same inner cushion as the reusable HeelZup Cloud. The HeelZup Cloud Solo cover is made of a lightweight nylon material that is moisture proof and reduces friction and shear.
Heelzup Size Selector

HeelZup Cloud Reusable – The HeelZup Cloud Reusable is fitted with a durable, four-way stretch polyurethane cover that can be cleaned and used from patient to patient.  Illustrated instructions for use and care and silkscreened to both side panels of the cover.
Heelzup Size Selector